Welcome to the biggest lesson in Unit 1.  It's time to spend some time on Peel Preparation.
Do not skip ahead. This lesson is CRITICAL to increase your chances for the best possible results.
Let's dive in.
Having a healthy daily skin care regimen and preparing for a chemical peel is one and the same.
We want you to: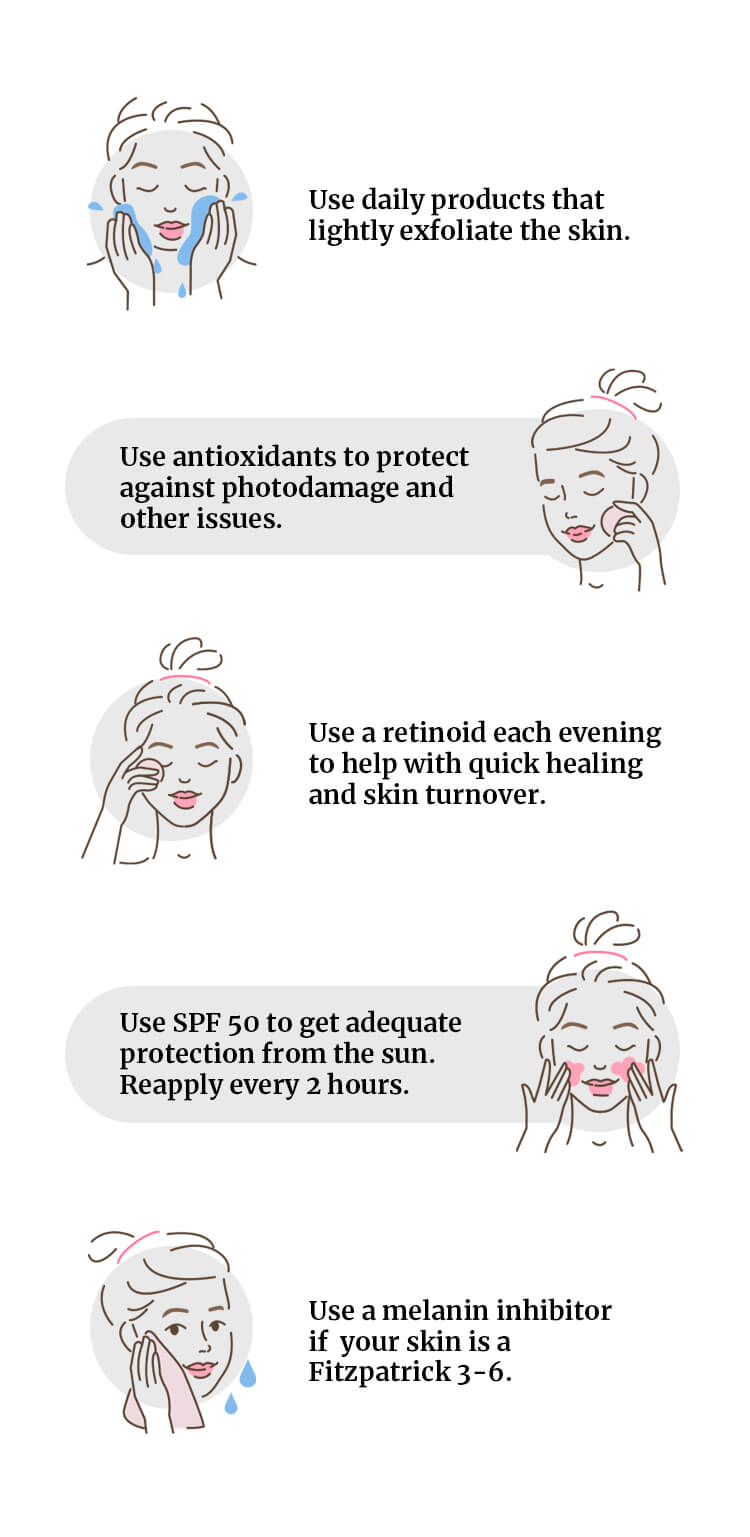 Daily exfoliation can be as simple as using an acid cleanser – such as our Revitalizing Glycolic Cleanser, every morning and evening.
By using a chemical exfoliator you will get an even skin microrelief (think surface of your skin) and a smooth complexion.
Physical scrubs can be used in general but not the same week as a chemical peel. When physically abrading the skin, scrubs can cause an uneven microrelief if you are more aggressive on one area or another. Leave these products for maintenance.
Exfoliation
Antioxidants
Antioxidants such as vitamin C, copper, green tea, resveratrol, etc. are extremely helpful in keeping your skin functioning at its best.
Vitamin C can neutralize free radicals (those pesky stressors that damage your cells) before they cause damage.
They can also stimulate collagen production, improve pigmentation issues, improve your skin's tone and texture, and many more things.
High Octane Vitamin C can be applied every morning prior to your creams and SPF.
Retinoids
Retinoids [meaning retinol or a prescription of tretinoin] are exceptionally beneficial for the skin.
Not only do they help to shed the inner lining of the pores, but they also minimize pigmentation, clear acne, stimulate collagen, and the BIGGIE here…. They help to speed up your skin's turnover process.
This not only makes your skin look smoother and healthier daily, but when you do a peel, the quick turnover will help you to heal from your peel faster than normal.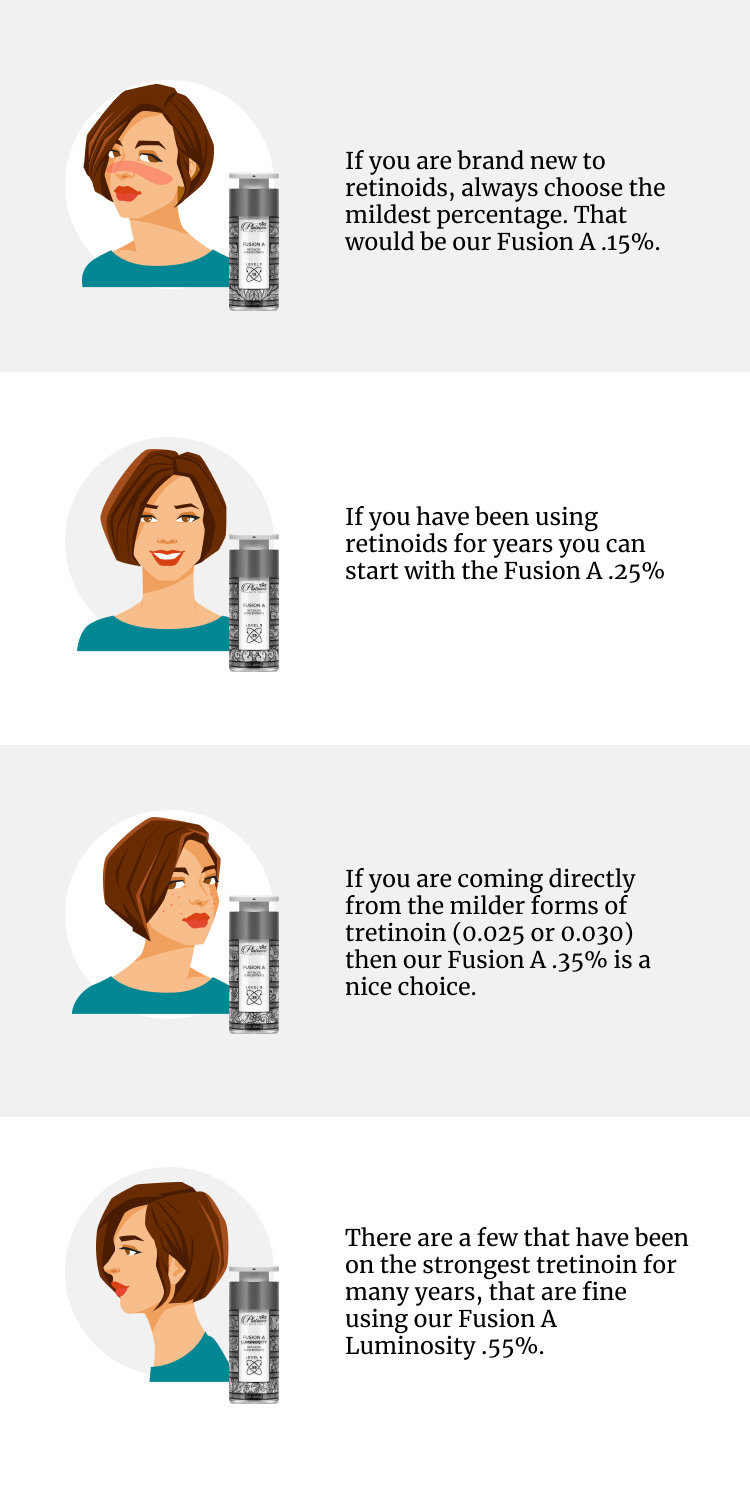 Take This Retinoid Quiz to Help You Choose: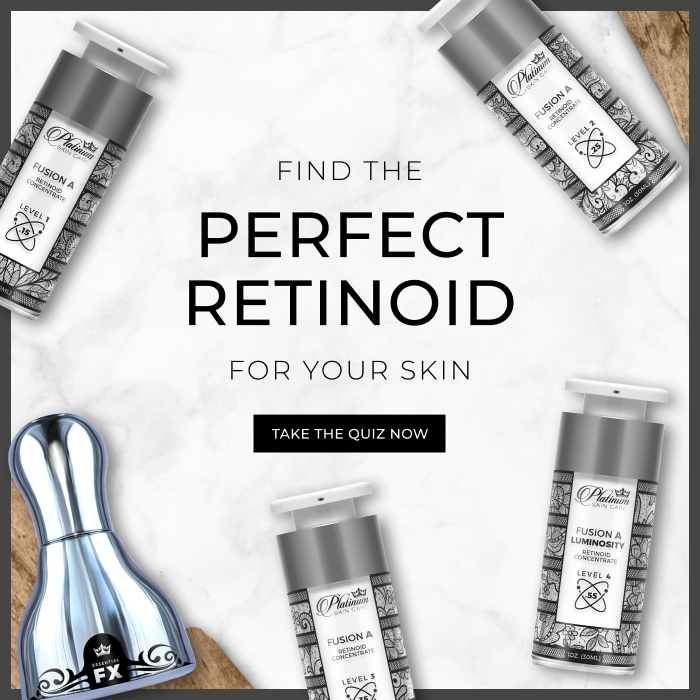 SPF
SPF 50 is mandatory when you are performing peels.
If you are applying your products perfectly but aren't protecting your skin from UV rays, you are taking one step forward and two giant steps back!
This is especially true for those of you treating pigmentation issues.
SPF should already be a part of your daily regimen, but if it isn't, you know to get that added on.
*Remember this key fact! You probably aren't applying enough. SPF can't be "lightly" applied like a moisturizer.
You need a generous amount to give the full coverage. If you have the RIGHT amount on – you probably feel like it's too much! It isn't.
Let it soak in and you will be fine. If you are going to be outdoors, remember to reapply it every 2-3 hours. We also highly suggest a wide brim hat and protective clothing.
Melanin inhibitors
When you learned your Fitzpatrick type, were you type IV, V, or VI? If so, this is extra important for you!
Those with darker skin types are at a much higher risk of developing pigmentation disorders.
These pigmentation disorders are generally an increase of pigmentation but can also be the loss of it.
When the pigmentation increases after a peel that is called PIH or Post Inflammatory Hyperpigmentation. When there is a loss it's called hypo-pigmentation.
By balancing out the production of melanin in the skin with a topical inhibition product before we apply the acid, we can then apply a stronger acid and have a much smaller risk of pigmentation disorders occurring.
A melanin inhibitor such as our Fade Bright with alpha arbutin, or an otc or prescription hydroquinone are highly suggested and even mandatory with the darker ethnic skin types before applying a stronger peel such as TCA.
Jessners is a much safer acid, but a 1-2 week prep would be recommended as well.
Pretreatment should be applied for a bare minimum of 2 weeks and preferably 3-6 weeks.
*Longer applications as the skin gets darker and the acid gets stronger.
*We get many telling us that they are light for their heritage – and that they don't feel they need pre-treatment.
*If you can see the melanin coloring in your skin tone though – you should preferably pre-treat.
Does your skin turn dark after a bug bite and then that mark stays around for many weeks at a time? You should pre-treat.
Are your elbows, knees and knuckles darker than the rest of your skin? You should pre-treat.
Light skin (Fitzpatrick I, II, III) are less prone to PIH and are well suited to medium depth peels, but even in that range, pigmentation issues are always a possibility.
As a rule, if you are already dealing with hyperpigmentation, you should be using an inhibitor daily along with your broad-spectrum sun block of 40-50 SPF.